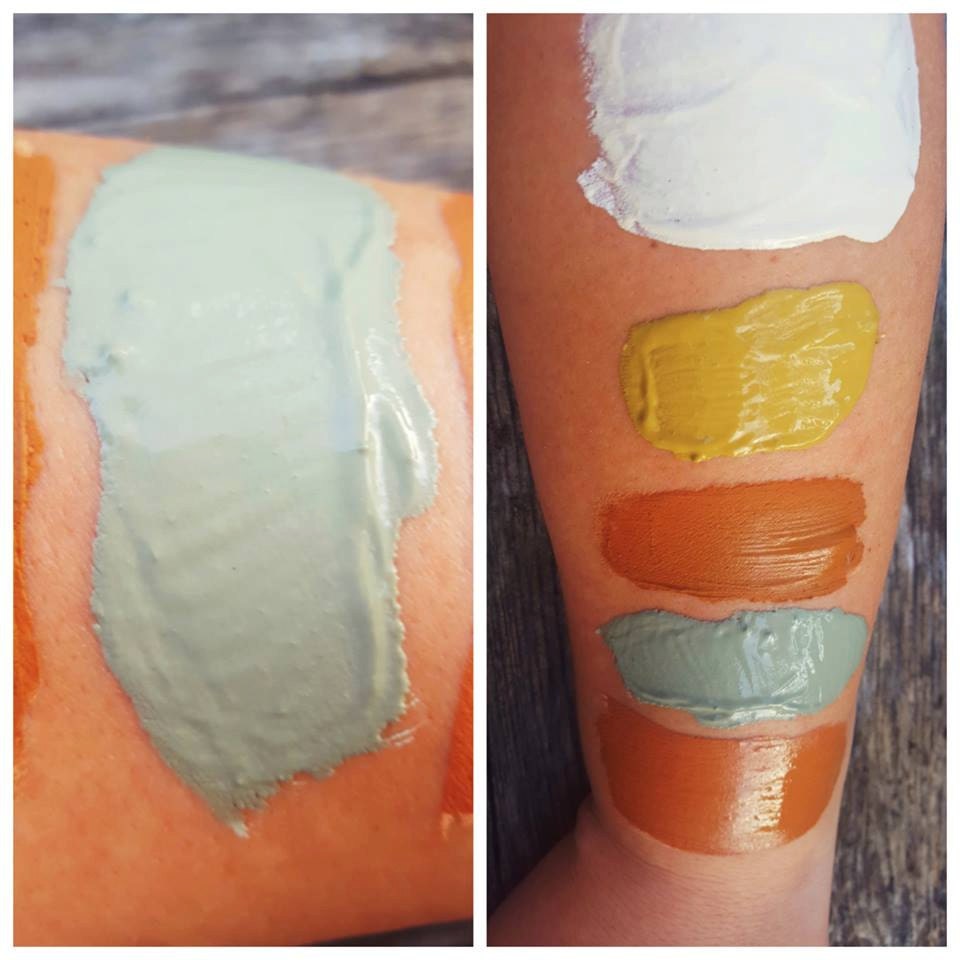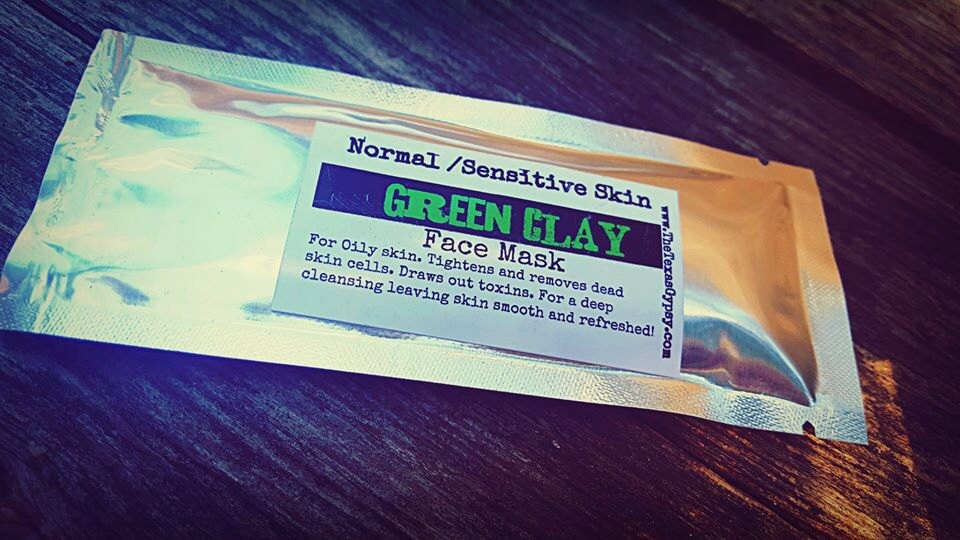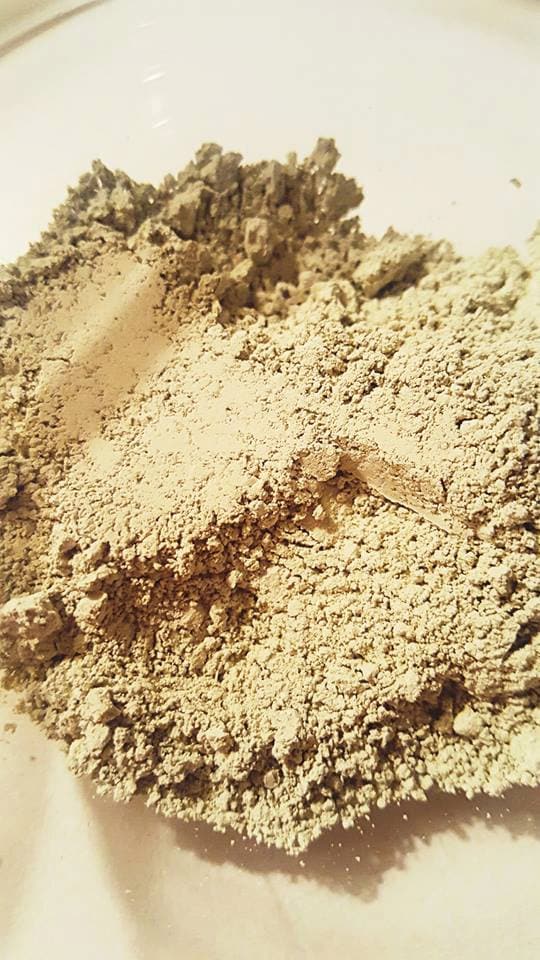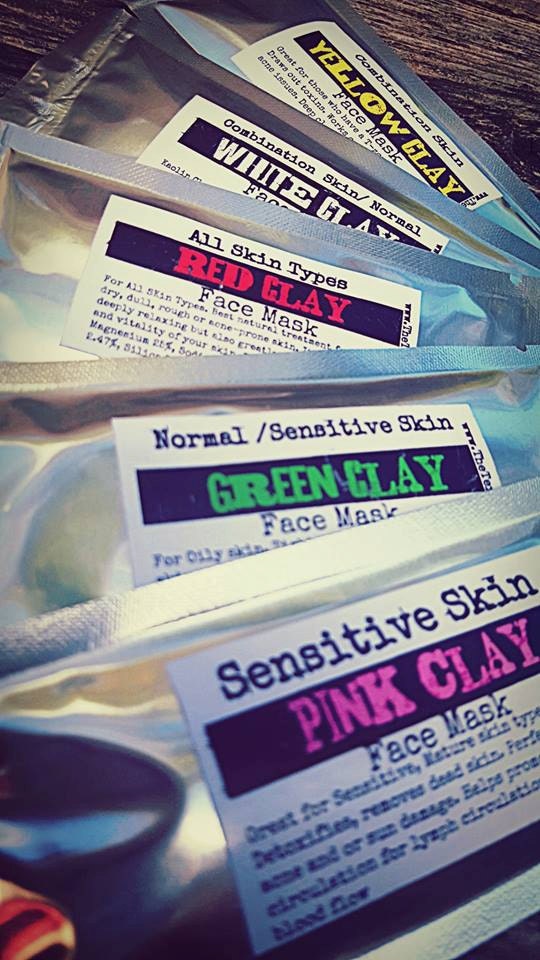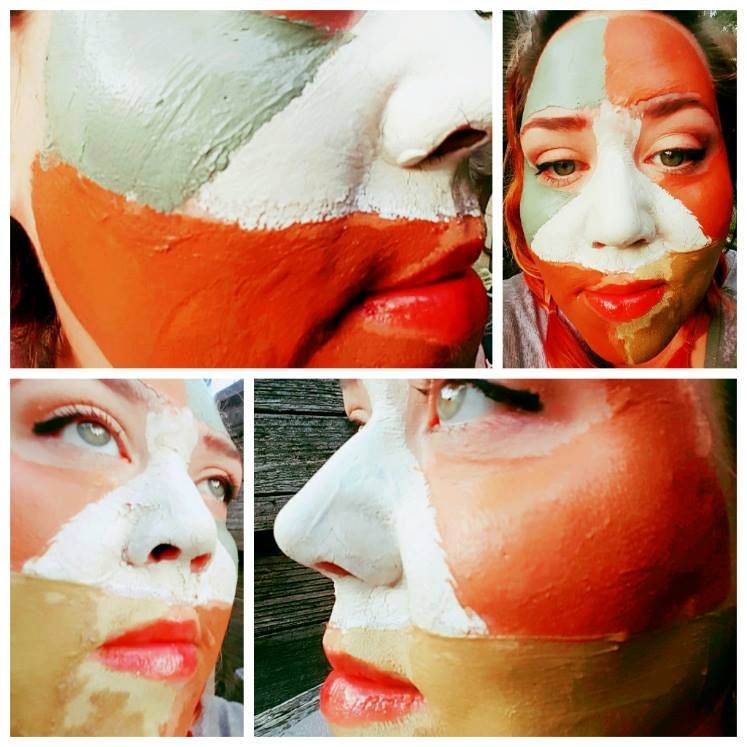 Green French Clay masks packets. All Natural and Organic. Simple and pristine Enough to make 1-2 applications each envelope (22 grams weight of clay. Green french clay is for Oily skin. Tightens and removes dead skin cells. Draws out toxins. For a deep cleansing leaving skin smooth and refreshed!

1. Cleanse face with warm water & regular cleansing regimen
2. Pour Clay in bowl. Mix with Liquid of your Choice about 2 table spoons. EX: Water, Honey, Milk, Olive oil etc. Mix to a thick paste. add liquid small amount at a time.
3. Apply to face and neck. using fingers or brush evenly. Avoid skin around the eyes.
4. let the mask dry mostly if you can, remove as the thinner layers dry up.
5. splash warm water on face and with the fingertips give a gentle massage in circular motion. Rinse off and pat dry with a face towel. Do not use any soap or cleanser after or to remove it.
6. Follow up with normal skin regime ex: toner moisturizer etc.

Warning: Perform patch test on inner elbow to see if any irritation occurs prior to use. discontinue use if irritation occurs. This product is not intended to diagnose, treat, cure, or prevent any disease.
Payments
Payment must me within 3 days of purchase, I then send an email and if their is no response the item will be closed.
Shipping from United States
We ship out after payment is confirmed, if you have any problems please email me and I will make it right. USPS I ship out in 1 to 4 business days depending on how many orders we have to ship out, this is when I ship and not the date you get your product. Please allow 2 to 3 business days for delivery
Refunds
I want you to be happy so please email me right away with problems and I will make it right. Skin is very individual so everyone may not be happy with a certain product. I am here to help with any questions you might have. I prefer you email me directly with any issues at thetexasgypsy@yahoo.com
Refunds with in 30 days after you get your shipment only! You must return the product to get your refund and you will be refunded shipping for one way back to us.

Thanks Heather

Additional
Hello Ya'll - my name is Heather and I am the Owner and Operator of The Texas Gypsy.
I began experimenting with the making of my own soap about 7 years ago as I have quite sensitive skin and all the "soaps" I bought in the store would irritate it. I read about goat's milk soap and bought some to try! It was a very happy day for me and my family as this type of soap did not irritate my skin! One of the only complaints that I had about even the goat's milk soaps that I could find were the scents that were available to purchase.
While I strive for all of my products to be as natural as possible, I also endeavor to have the most exotic fragrant combinations that I LOVE and believe that others would love also. After sharing my soap and then later my other natural bath products with friends and family with great results; I have decided to share these wonderful products with everyone. I use all Natural High-end ingredients and I am always testing new products and unearthing fresh scents all the time!
I make all of The Texas Gypsy products by hand in my home right here in Spring, Texas. If you ever have any questions or would like to request special orders please feel free to email me @ thetexasgypsy@yahoo.com or you can also check out my site on Etsy www.etsy.com/shop/TheTexasGypsy. On Etsy, my products are available day or night. I'd love to make party favors for your next gathering. Just think of the next Wedding, Baby or Bridal Shower, even Holiday baskets; just pick out your favorite aromas and I can do the rest.
Thanks again for shopping with The Texas Gypsy - available here at Belle's Attic here in Magnolia Texas.
Many Blessings,
Heather
The Texas Gypsy